English
About the Directors Guild of Japan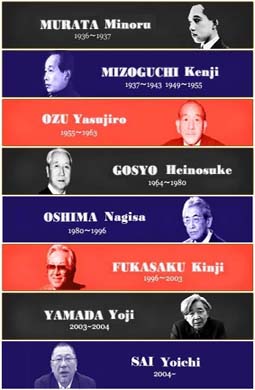 The past and present chairman
of the board of directors
Ever since its inception in 1936, the Director's Guild of Japan has promoted for growth in the field of cinema and motion pictures, and worked to raise the social status of directors. Various efforts are being made to establish and protect copyrights of directors to foster creativity and artistic freedom.
Through this website, we would like to raise our awareness to as many people as possible, and open the door to a new era with everyone who is passionate about cinema and motion pictures.
Freedom of Expression
The Directors Guild endeavors to establish and protect freedom of expression, to improve the status of film directors, and to enhance various rights of its members.
Directors and Copyrights
Directors and Copyrights Holders?!
"Copyrights of films belong to film production companies" after the copyright law was reformed in 1971. Therefore, directors currently do not possess copyrights.
However, "moral rights" (right to preserve integrity, right to determine the indication of author's name, and right to make the work public) are given to creators.
In other words, directors have no "financial rights", but possess "moral rights" as creators.
The Director's Guild has called for reform of the copyright law through activism, initially by collective agreements with film production companies to expand and protect rights of directors. In the recent years, we are trying to reform the law to allow directors to be given copyrights, then transfer copyrights to producers in the form of contracts, by advocating to the nonpartisan Art and Culture Promotion Committee of the National Diet.
Greetings
My name is Katsuhide Motoki, and I was elected as the chairman on June 16, 2022.